Full-Service Junk Removal Services in Caldwell, NJ
When you have a junk hauling job to do, you might find yourself dreading the moment that you actually begin the work. The good news is that you never have to get started when Rocket Junk Removal is ready to serve you in Caldwell, NJ. So what are you waiting for? Let's make something happen together!
JUNK REMOVAL IN CALDWELL, NJ FROM LOCAL PROS
Caldwell, NJ, a New Jersey borough and the birthplace of US President Grover Cleveland, is a great place to be. However, you might find yourself in a sour mood anyway when you've got do-it-yourself junk removal to work on. Eventually, you might come to the conclusion that you don't want to do this work at all. When this occurs, contact Rocket Junk Removal because we are a full-service hauling company! Our junk removal services in Caldwell, NJ are available so that people like you never have to clean up their own clutter.
From WC Presidential Streets to West Caldwell, we're ready to serve so many different neighborhoods around Caldwell. What's more, we also serve business owners, so if you've got an office, warehouse, restaurant, or store that needs to be decluttered, we can help you out! All you have to do is contact us, then let us know about the junk in question. That way, we can be fully prepared to haul it away!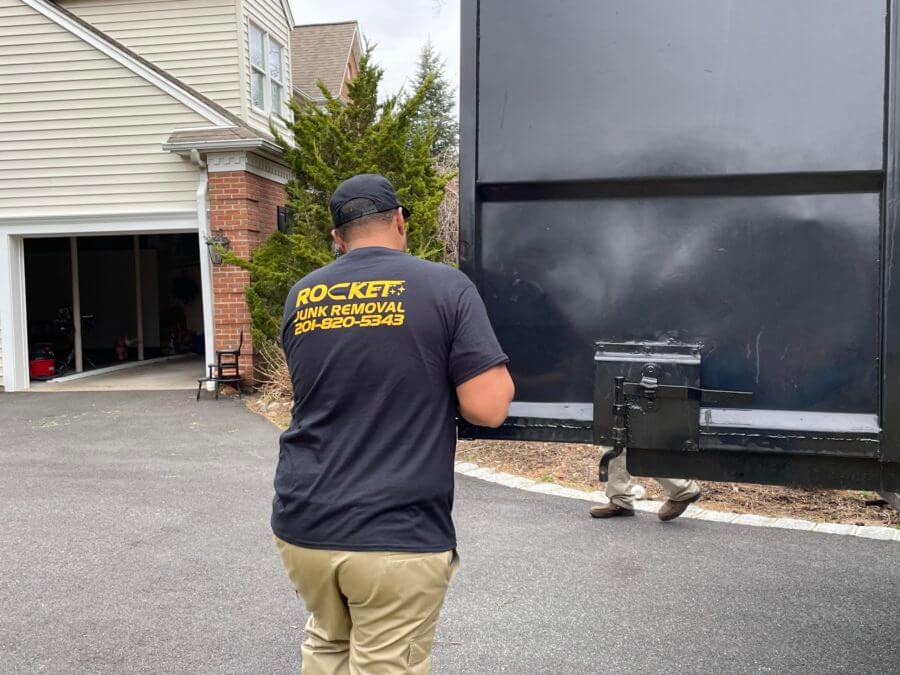 />
Why Our Caldwell Junk Hauling?
With so many different junk removal companies to choose from, it can be difficult to decide when to get junk removal services in Caldwell, NJ from. However, you should know that the best team that can haul away junk for you is none other than Rocket Junk Removal. There are many good reasons for this, but most importantly, we are a locally owned and operated business. So, by choosing us, you'll get service from friendly neighbors in addition to fair, affordable prices. Since we don't have to pay franchise fees, you get bigger savings as a result.
If you are interested in getting a cost estimate for your project, then get in touch with us! Either contact us online or call us at 201-820-5343 so you can tell us more about the junk that has to go. Then, we'll consider how much truck space it will take up and let you know around how much the project will cost. If you like what you hear, then you're totally welcome to schedule a junk pick up then and there! We're ready to serve you—even as soon as today or tomorrow.
On the day of your appointment, we'll arrive right on time, ready to work. The Rocket Junk Removal will show up looking professional with our clean uniforms and our wide smiles. You'll be able to tell right away that we're serious about junk removal, so guide us to the junk, and we'll work on making it disappear in a flash. Trust us, you'll feel instant relief once we start loading it all into our truck.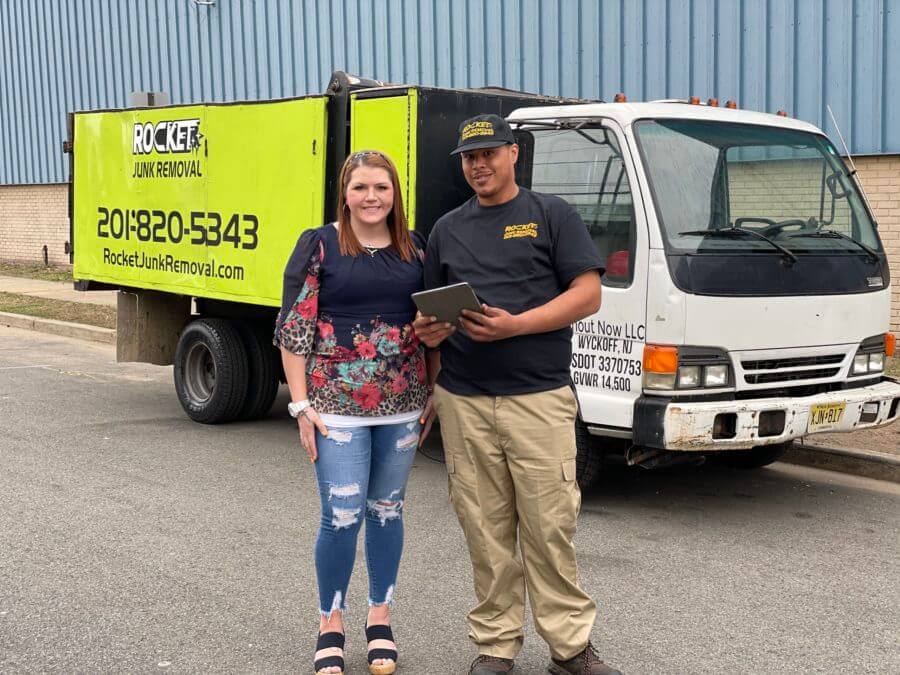 />
Our Caldwell Junk Removal Process
While we're at our base of operations, we'll make sure our truck has enough space for your junk, then start heading your direction.
When we arrive, we'll provide you with an upfront quote based on how much junk you have. Accept our quote, and we'll start our work afterwards.
Leave it to us to pick up all your junk, load it onto our truck, and leave your house with so much more free space and open air!
Finally, we will accept your payment, wave goodbye, and drive to a nearby disposal site so we can get rid of the junk for good.
Basement Clean Out Services in Caldwell, NJ
Removing junk from a basement involves lots of walking down the stairs, then walking back up. Combine that with all the heavy lifting you'll be doing, and you're looking at some killer muscle aches in your future. Because this doesn't sound like a fun time, give us a call so we can do the basement clean out for you. So, what's in your basement? If you have a bunch of boxes and bins that need to be sorted through, then we'll start popping them open and examining the contents with you. If you have heavy washers, dryers, or other appliances down there, then we'll hoist them up and haul them out. When our work is done, your basement will have plenty of free space that you'll be able to use in new ways. Save your basement and your free time with Rocket Junk Removal!
About Us
Schedule an appointment with Rocket Junk Removal, then see why everyone has been leaving us five-star reviews for yourself! It's because of the efforts of our friendly team that so many customers have walked away from us smiling. All you have to do is show them junk, and they make it disappear fast. Not only that, but our prices are so low, you'll think you're dreaming. After us, you'll never consider another junk removal company again. So what are you waiting for? Book junk removal services in Caldwell, NJ with us today. Or check out our other service areas.
What Our Customers Have to Say
4.6 out of 102 reviews
SAVE $20!
When You Book Online
WHAT ARE YOU
LOOKING FOR?