Full-Service Junk Removal Services in Livingston, NJ
When you need junk out of your home or business fast, count on us for the best junk removal in Livingston, NJ!
Your Go-To Junk Removal Pros Serving Livingston
While Livinston, NJ offers a homey, suburban feel to its residents, having too much junk on your hands can have home and business owners feeling overwhelmed. With a busy schedule occupied by work and home life duties, it can be difficult to make time for getting rid of junk. Say for example, you have a broken appliance that needs to be removed. Or maybe, your office looks as though a hurricane ran through it, with papers scattered on every surface. Whatever junk dilemma you're in, Rocket Junk Removal is here to take care of it for you! Our junk removal in Livingston, NJ is reliable, affordable, and always on time.
Not located in Livingston? We don't stop here! Our company is Wyckoff-based, but we are glad to serve your neighborhood too. Some other locations we serve are Bloomingdale, Clifton, and many more. If you're not sure if we can come to you, contact us!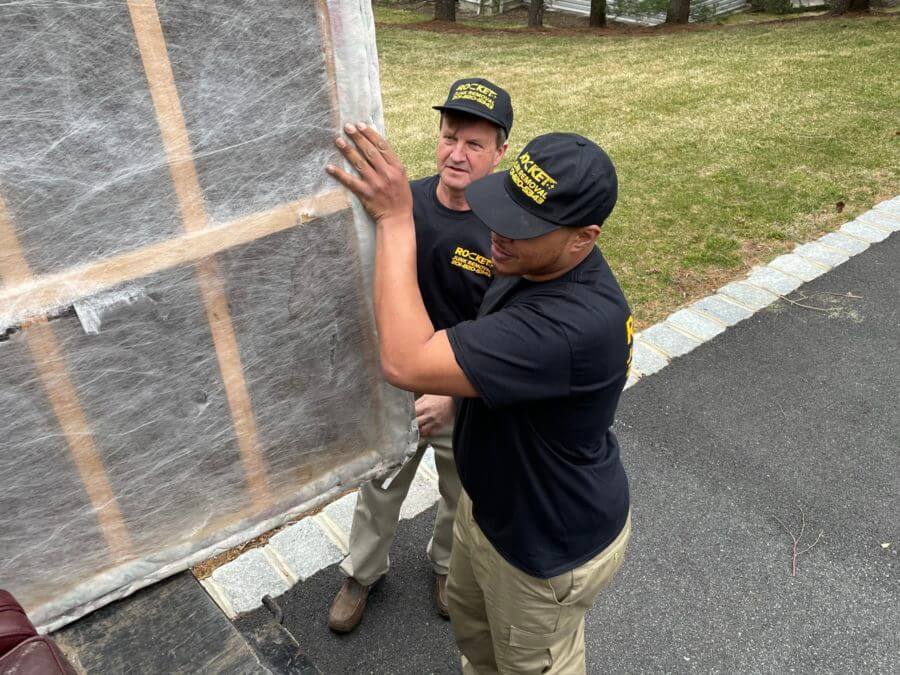 />
Why Us?
Looking for a solution to your Livingston junk that doesn't require the extra effort? If so, call us today for our full-service junk removal! Rocket Junk Removal is a local junk removal company in Livingston, NJ where all your needs are met precisely and fast. Our number one priority is to serve you on your time, so we're open 7 days a week and offer same-day service!
Our professional crew offers a complete job at a record-low price. Since our company is locally-owned and run, we won't charge surprise add-on fees that we all hate! Instead, we're upfront about pricing. We just need to know what you need gone, and from there our crew will give you an on-site junk removal estimate in Livingston!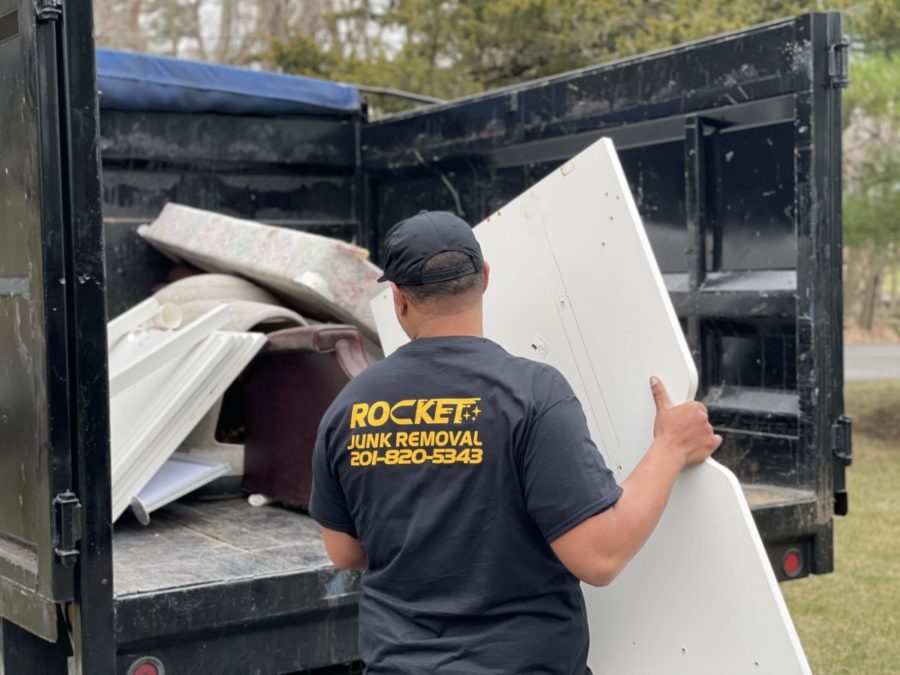 />
The Process
First things first, let's get you scheduled! You can easily book your appointment for junk removal in Livingston, NJ online or through a phone call.
Around 30 minutes before your appointment, our team will give you a call to let you know they're on the way.
Upon prompt arrival, our team will present you with a free, all-inclusive quote! They just need to look at your amount of junk first.
Lastly, just verify the quote with our team so they can be cleared to work. Then, your work is done!
Old Mattress Removal
Is it time to get rid of your mattress? While pushing it out your door and leaving it for the trash man may be the easy solution, it's harmful and poses many risks to the environment. That's because most mattresses are composed of carbon-based materials that ultimately break down and produce methane gas, a top greenhouse gas. Mattress dumping is so normalized that people seem to forget that over 80% of mattress materials can be recycled. At Rocket Junk Removal, we are proud to provide eco-friendly junk removal! We make pricing simple and easy to digest by charging you one flat rate for all hauling, removal, and disposal of your old mattress. Not only will this save you time and trouble, it'll help protect your surroundings as well!
Firstly, we'll load up your old mattress onto our truck and locate a mattress recycling site nearby. Then, we head there and leave the recycling process to on-site employees! Using sawing equipment, skilled employees would strip different materials from the mattress like fibers and metal springs. While some fibers may not be recyclable, any that are would be shredded and baled in preparation of selling. Metal from the mattress springs would be melted down as scrap metal, while any wooden planks would be broken into smaller pieces and wrapped up. The majority of your old mattress will be recycled in the end, and any remaining scraps will be discarded appropriately!
About Us
Rocket Junk Removal is a local, full-service company offering the most favorable customer experience for junk removal in Livingston, NJ. Our approach is different than other companies in that we put you first and always make sure your needs are met. Our friendly team arrives with smiles, works with you on pricing, and never leaves until all you junk is picked up! From clean outs to demolition jobs, you can count on us to take care of your job entirely and quickly, without you having to lift a finger.
What elevates us further in the junk removal market is our eco-friendly waste disposal. As experienced junk haulers, we hate to see good items go to waste and choose to give back instead! We gladly work with donation organizations and centers because we truly believe one man's junk is another's treasure. Of course, we also recycle anything we can, from electronics to furniture. This way, we're helping local economy and communities at the same time as protecting our water, air, and land quality from dirty landfill contaminants.
What Our Customers Have to Say
4.6 out of 102 reviews
SAVE $20!
When You Book Online
WHAT ARE YOU
LOOKING FOR?