Office Furniture Removal in, Wyckoff NJ
Remodeling your office space? Need to make room for new pieces? Choose Rocket Junk Removal for office furniture removal.
Professional Office Furniture Removal
Is it time to upgrade your existing office furniture? Are you moving locations and need to clear out the old space before vacating? Whatever the case may be, you can count on us for expert office furniture removal in Staten Island and the surrounding area. You can trust Rocket Junk Removal to get rid of all of the furniture that you no longer want or need. From chairs to filing cabinets to desks and everything in between, if you don't want it, we'll gladly take it off your hands.
With our professional services, you can leave all of the heavy lifting to us. There's no need to stress about how you're going to get this project done on your own. Choosing Rocket Junk Removal is one of the best investments you'll ever make!
While we work fast, you can have total confidence that we're doing the job correctly. You never have to worry about scratched walls or any other damage. We provide efficient services and treat your place of business like its our own. Ready to book office furniture removal services? Call Rocket Junk Removal today at 201-298-8690.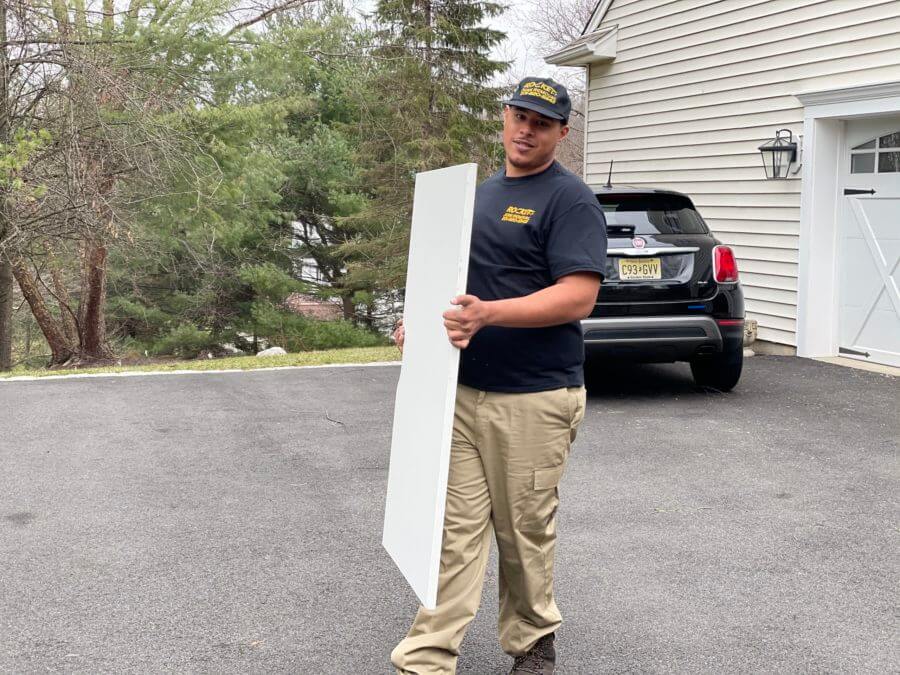 />
Why Us for Office Furniture Removal?
Taking on the responsibility of office furniture removal and disposal on your own is extremely stressful. Instead of dealing with all of the hassle (and possible injuries!) that come with moving office furniture, hire Rocket Junk Removal instead. No project is too big or too small, and we guarantee five-star service for all of our clients.
No matter if you're getting rid of all of the existing furniture in your office or only want a few pieces removed, you can count on the team at Rocket Junk Removal to get the job done right. Our crews are not only experienced in junk removal and hauling, we're also equipped with all of the tools needed to move the heaviest, bulkiest office furniture.
Not only will you save yourself stress and hassle, choosing Rocket Junk Removal also saves you money! Unlike franchised junk removal companies, we're 100% locally-owned and operated. This means that you never have to worry about set prices or hidden fees. We provide volume-based quotes to give each client the best possible price.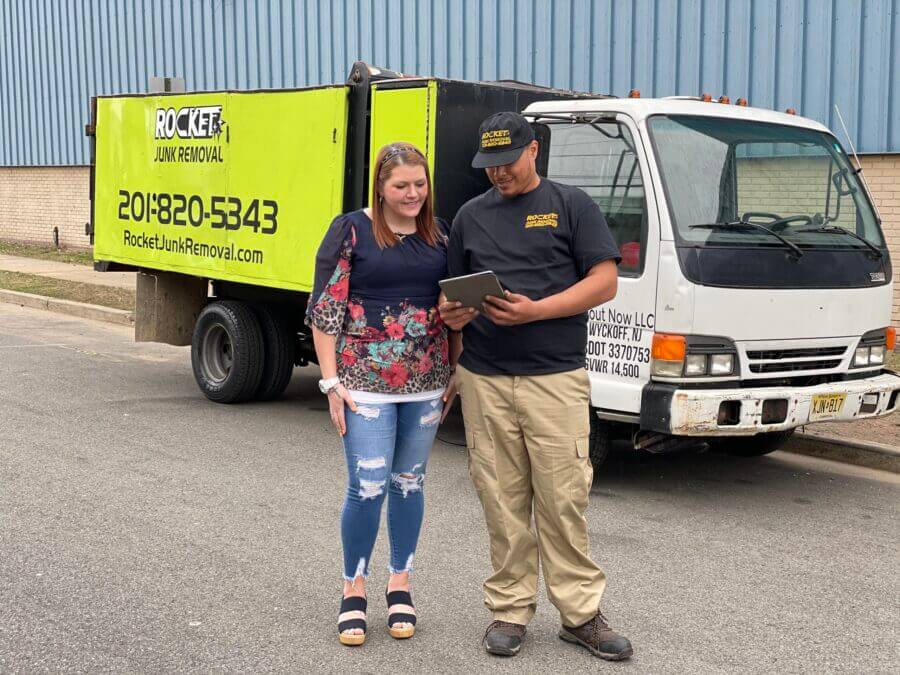 />
Our Office Furniture Removal Process
1. Let us know that you want to get rid of office furniture by calling us at 201-298-8690 or by filling out our online form. We'll discuss your project needs and then schedule a day/time that works best for you.
2. On the day of your appointment, you'll receive a courtesy call when we're 15 minutes away. This ensures that we don't interrupt any important business meetings or other daily operations.
3. After we arrive, let us in and show us all of the office furniture that needs to be removed. We'll then draft up a volume-based quote and present it to you. If you approve, our crew will immediately get to work to clear out your space.
4. Once all of the office furniture has been removed, approve the job, pay us, and then you can get back to work! After hauling items away, we take care of proper disposal. If the office furniture is in good condition, we donate it so that it doesn't end up in the local landfill.
Cubicle Removal
New cubicles can completely transform your office space. No matter if you're looking to replace old cubicles or have downsized to maximize your space consumption, we're the company to call when it's time to get rid of cubicles that you no longer need. With expert office cubicle removal from Rocket Junk Removal, we'll quickly clear out your space while you focus on more important aspects of your business. We disassemble, haul, and properly dispose of office cubicles on your schedule! In our commitment to sustainable practices, all usable cubicles will be donated to new homes.
The best part is that we offer great services at unbeatable prices. Want to learn more about our local office furniture hauling? Call us at 201-298-8690 or contact us online.
About Us
Rocket Junk Removal is locally-owned and operated. Our clients are like family and we strive to exceed expectations every time. No matter how big or tough a project may be, you can ensure that you're greeted with a friendly smile and a crew that is eager to get the job done right. When it comes to office furniture hauling, we're the best company in the area.
Our expertise, customer service, and prices can't be beat. Ready to become a Rocket Junk Removal customer? Get in touch at 201-298-8690 and let's discuss your office furniture removal needs today!
What Our Customers Have to Say
4.6 out of 102 reviews
SAVE $20!
When You Book Online
WHAT ARE YOU
LOOKING FOR?