Commercial Junk Removal Services
Commercial junk hauling can be tough work, so don't settle for less than your area's best junk removal professionals. When you need commercial junk removal in New Jersey, the dependable team at Rocket Junk Removal would love to be at your service.
COMMERCIAL JUNK REMOVAL NEAR ME
New Jersey is a place for business. A handful of Fortune 500 businesses even call the state their home, including Prudential Financial, Merck, and most famously, Johnson & Johnson. Among these giants are many other businesses, including yours! That's something we have in common with you. Rocket Junk Removal is a local business that is located near you, and if you have commercial junk that's got to go, we'd love to provide you with commercial junk removal in New Jersey.
What sorts of businesses do we provide service to? All kinds, really. We have removed junk from offices, boutiques, retail outlets, restaurants, and apartment complexes. That's only scratching the surface of our commercial junk removal capabilities. Get in touch with us, and it's a sure bet we can arrange something for you, too!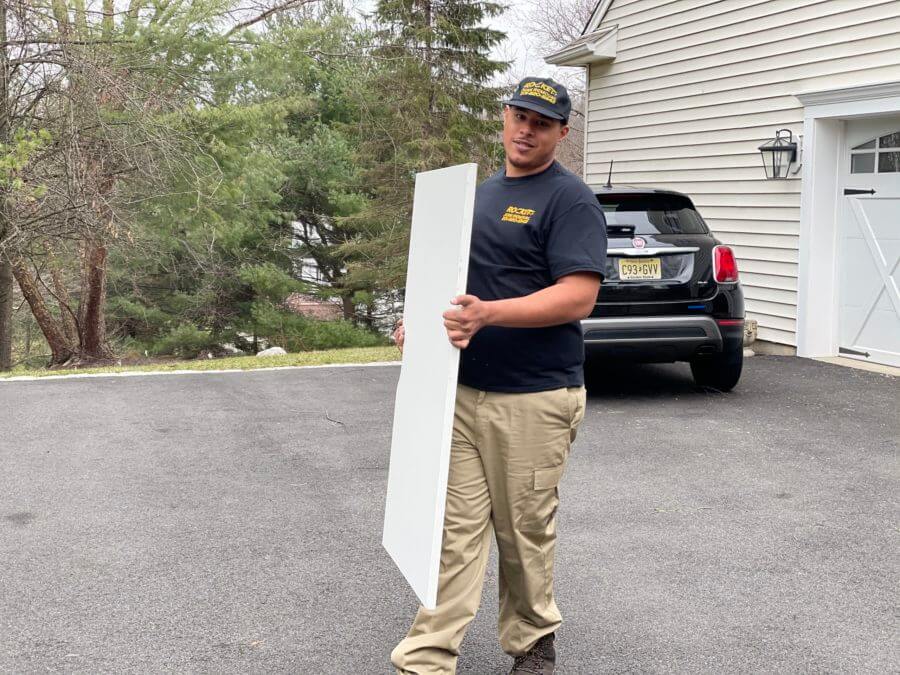 />
Why Our Commercial Junk Removal?
Whether you need to get rid of one item from your business or you want a full-scale commercial cleanout, there's one business you can trust the most to get it done. It's none other than Rocket Junk Removal. We love maintaining positive business-to-business relations, and we'd love to work alongside you next. We provide flexible scheduling and don't intrude on your day-to-day operations, so when you choose our commercial junk removal in New Jersey, you won't have to sacrifice any productivity to get rid of your workplace's junk. Count on us to make it happen!
From fax machines to office supplies, whatever you've got for us, we'd love to take it. What's more, we'll remove all that commercial junk without emptying your wallet, either. Rocket Junk Removal uses a volume-based pricing system so that you always pay a fair rate no matter how big the job is. Additionally, we never sneak hidden fees onto your final bill. We play fair and keep things affordable so you have savings to spare!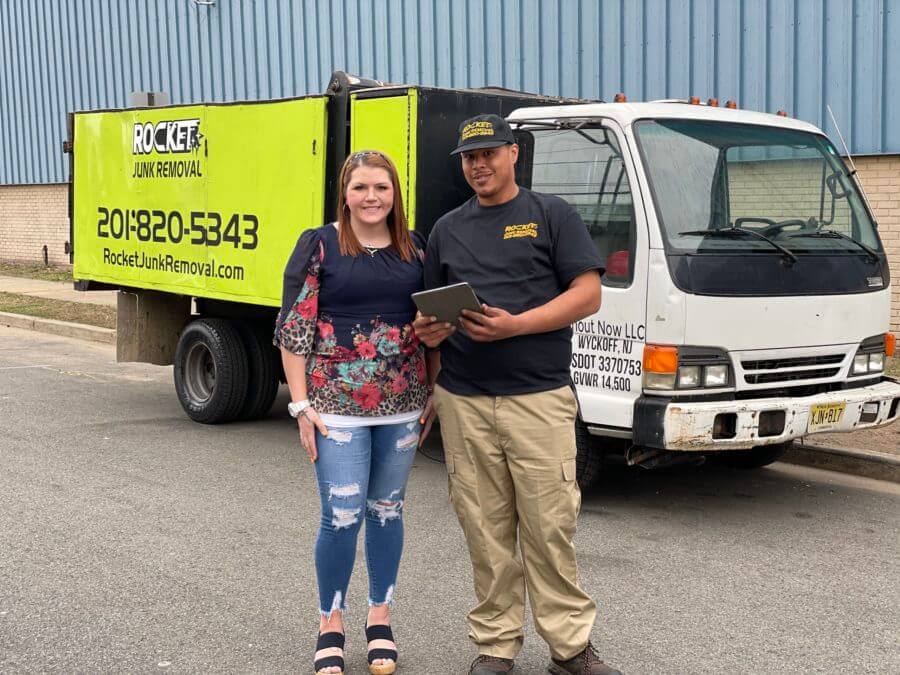 />
How Commercial Junk Removal Works
First, we will give you a phone call when we have almost arrived at your commercial property. That way, we don't interrupt you in the middle of a meeting.
Say hello to us, let us know where all the commercial junk is, then accept our upfront quote. With all that out of the way, we can begin removing the clutter.
Junk removal is a piece of cake for our full-service crew. You'll never have to haul any junk for yourself, so feel free to work on something else in the meantime.
After we have finally removed all the commercial junk, we will accept your payment, say goodbye, and let you get back to your day!
Commercial Furniture Removal in New Jersey
Removing commercial furniture can be hard when you're just one person, and your employees are busy with other things. Count on our hauling experience instead when you have commercial furniture that no longer has a place in your business. Some examples of commercial furniture that we haul away include tables, desks, chairs, sofas, shelves, and cabinets. Whatever form your furniture takes, it won't take us long to move it onto our truck. We'll carefully lift it up, guide it towards the exit, and load it onto our truck so we can donate it. We'll take caution to not scratch any walls or knock anything over, too. Keep in mind that we are a fully insured crew, so you don't ever risk liability or responsibility. Besides, we are experienced enough to complete the job with zero hassles anyway!
About Us
Junk removal services get done by best the crew at Rocket Junk Removal. With years of junk removal experience under our belt, you can choose us with confidence, and we'll keep you feeling good about your decision from start to finish. On the day of your appointment, you'll get to meet our friendly, well-dressed crew. Then, they'll back up their professional appearances with a professional junk removal appointment. You will never have to haul any commercial junk—not when our employees work quickly to whisk it away for you. That's the Rocket Junk Removal experience!
What Our Customers Have to Say
4.6 out of 102 reviews
SAVE $20!
When You Book Online
WHAT ARE YOU
LOOKING FOR?