Full-Service Junk Removal Services in Montclair, NJ
Our junk hauling services in Montclair are top-tier! From yard debris removal to light demolition, our handy team can do it all.
Professional Junk Removal in Montclair, NJ
Montclair, NJ is celebrated for its lovely green spaces, like nature preserves, hiking trails, and equestrian centers. As a local business that cares about the community, we provide accessible, affordable junk removal in Montclair that keep the city clean and beautiful! Our junk removal in Montclair, NJ is the perfect solution to your junk because it results in responsible and eco-friendly waste disposal.
Say, your washer or dryer recently broke down and you need it removed. Or maybe, with your busy schedule, you can't seem to address the unattractive yard waste in front of your home. Our professional junk removal services in Montclair adjust to your needs, handling them entirely so you don't have to! If you're on a tight schedule, no worries. Our open business hours were designed to provide same-day service.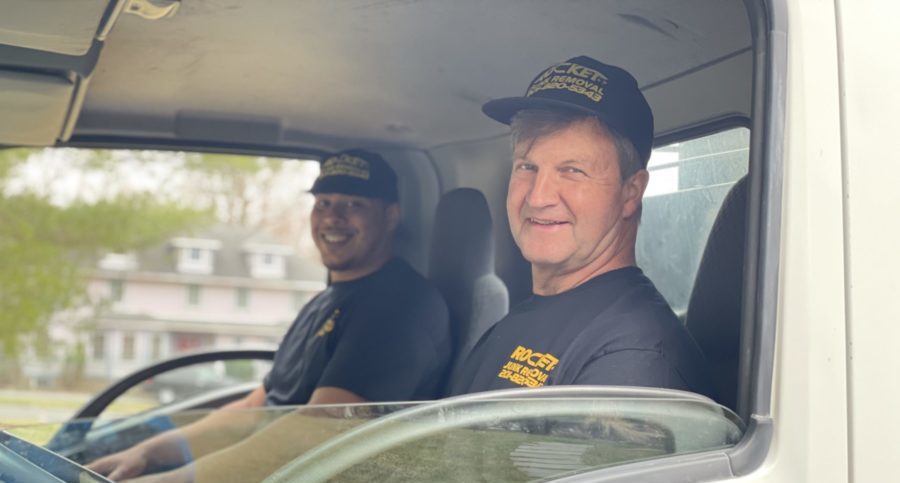 />
Why Us
Rocket Junk Removal is a local junk removal company in Montclair, NJ providing residents with full-service junk hauling. With our extensive junk removal knowledge and trained haulers, we always get the job done right, quick, and with smiles! The best part? You can relax while we do the dirty work.
Our company guarantees proper waste disposal, everytime. We partner with waste management facilities, transfer stations, and donation centers in our different service areas so your junk gets a shot at a new life.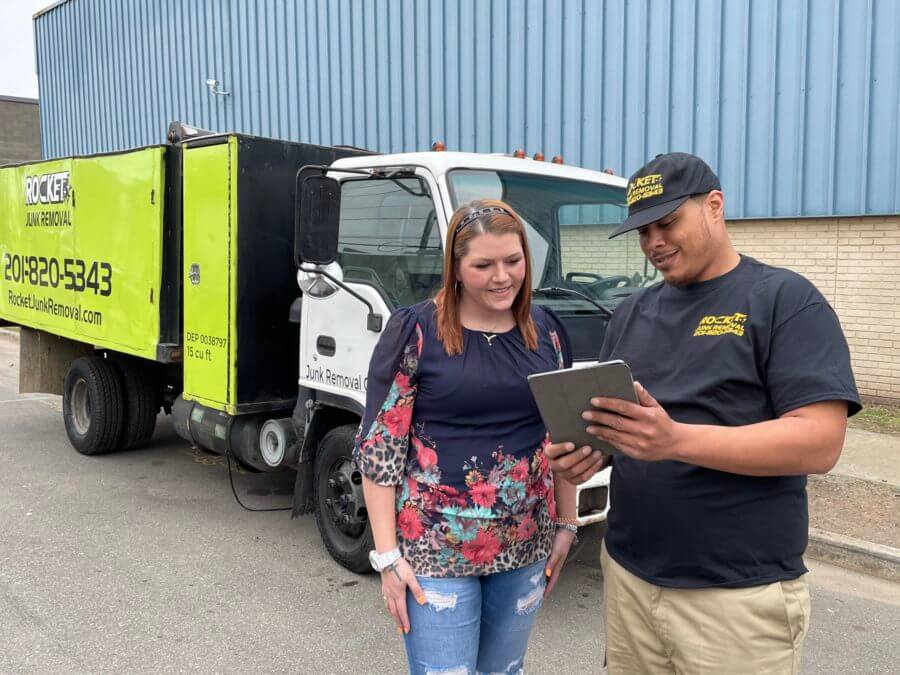 />
Process
First, schedule our crew online or give us a call requesting junk removal in Montclair, NJ.
Before your appointment, we'll contact you to offer a free service quote for your Montclair junk removal.
Upon arrival to your appointment, we'll give you a firm, finalized rate based on the amount of junk you have.
Once you approve your quote, we can begin your junk removal process!
Yard Debris Removal in Montclair
For many people, raking up yard debris and touching up yard landscaping is a daunting task. On the contrary, homeowners that do tackle their own yard debris will often leave sticks, leaves, and branches in a large pile for the neighborhood waste pick-up to handle. This may be the easiest solution, but it's actually dangerous for the environment. This is because in landfills, yard waste chemically breaks down and releases excessive amounts of methane and other pollutants into the environment.
Instead, booking Rocket Junk Removal for yard debris removal in Montclair not only leads to proper disposal of the debris, but also saves you time and energy! All you'll have to do is book our crew, approve our quote, and we'll take it from there. Yard waste removal is one of our simplest junk hauling services in Montclair; our team expedites the process by separately collecting all the debris, rounding it up, and sorting through it together. From there, we load up our trucks and head to a local waste management site that accepts yard debris. Restoring your curb appeal is really that easy!
About Us
Rocket Junk Removal is a locally owned junk removal company in Wyckoff, serving residents in surrounding communities with quality, reliable junk removal. Our number one priority is always the customer, and we are the most trusted local junk removal company in Montclair, NJ! That's because we have open availability that accommodates to your schedule, even offering same and next-day service as fast as a rocket.
By combining our expert-level service with fair, simple pricing, we knock our competition out of the water! We have a consistent, volume-based pricing system that charges customers based on how much junk needs removal. Our team will show you a firm, honest quote before addressing your service so that you know just what to expect! And don't worry– you won't have to sweat surprise fees with us because our quotes are all-inclusive.
What Our Customers Have to Say
4.6 out of 102 reviews
SAVE $20!
When You Book Online
WHAT ARE YOU
LOOKING FOR?