Full-Service Junk Removal Services in Prospect Park, NJ
Why force yourself into a junk hauling job when there are experts near Prospect Park that want to do the work for you? Rocket Junk Removal is the best junk removal company near you, and they're ready to haul away your clutter.
JUNK REMOVAL SERVICES IN PROSPECT PARK, NJ
With just under six thousand inhabitants, Prospect Park is a small, homey borough where people can enjoy life without the hustle and bustle associated with nearby bigger cities. Let's keep things small and make sure you don't have to take on big junk removal projects. Skip the do-it-yourself work and choose our junk removal services in Prospect Park, NJ. Let the pros at Rocket Junk Removal serve you instead! That way, you can spend more time with your friends and family, or you can just watch some TV alone if you'd prefer!
Where do you need us to remove junk at? Your home? Your farm? An apartment or another kind of rental space? We are happy to report that we can clean out all kinds of different places for you. So don't wait another second. Reach out to us, and we'll give you an appointment that you won't regret for a fair and affordable price.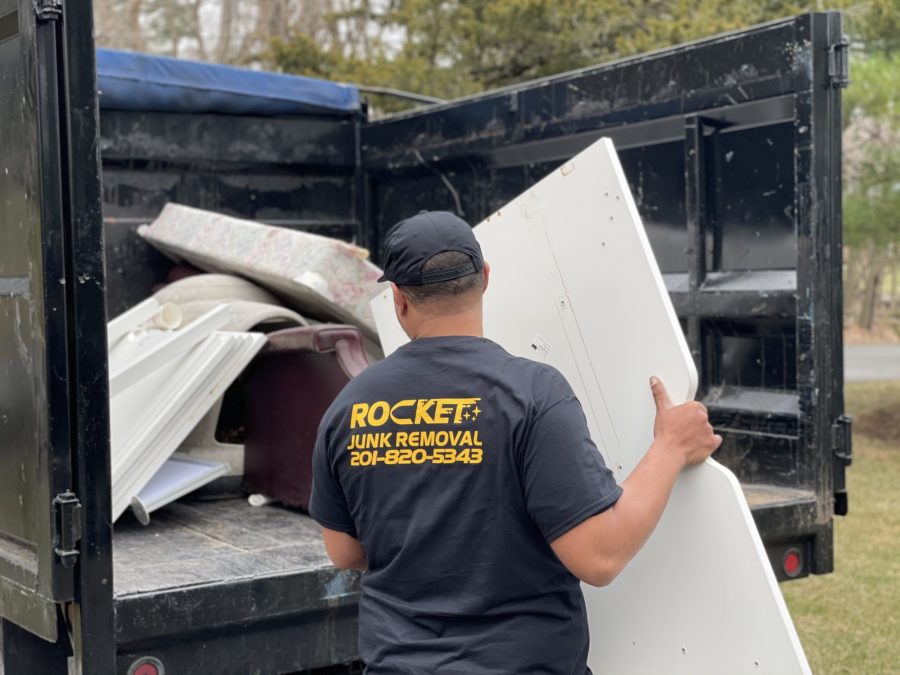 />
Why Our Prospect Park Junk Removal?
Want to get rid of junk without having to lift a finger? You can't be blamed for that. After all, junk removal services in Prospect Park, NJ aren't something that just anybody can do. You have to be prepared for a lot of physical labor. You have to have plenty of time to dedicate to the task. And, perhaps most troubling, you need a big vehicle to take that junk to a disposal site with. These are a lot of qualifications. Qualifications you might lack. Don't worry, though, because at Rocket Junk Removal, we fit all these descriptions to a T!
We're prepared to remove the junk from your property in Prospect Park because we've taken on jobs like this so many times before. We've got plenty of experience, so just leave this work to us. We can finish the job faster than you could've on your own. Additionally, we can do it for a fantastic price, too. The final cost of our junk removal services in Prospect Park, NJ is based on the volume of junk we haul away. No hidden fees attached.
If you want an estimate for your junk removal project, reach out to us today! We'd be happy to talk to you. Just contact us online or call us at 201-820-5343. Let us know about the junk you need to get rid of, and we'll be able to figure out the best time and date for your appointment together.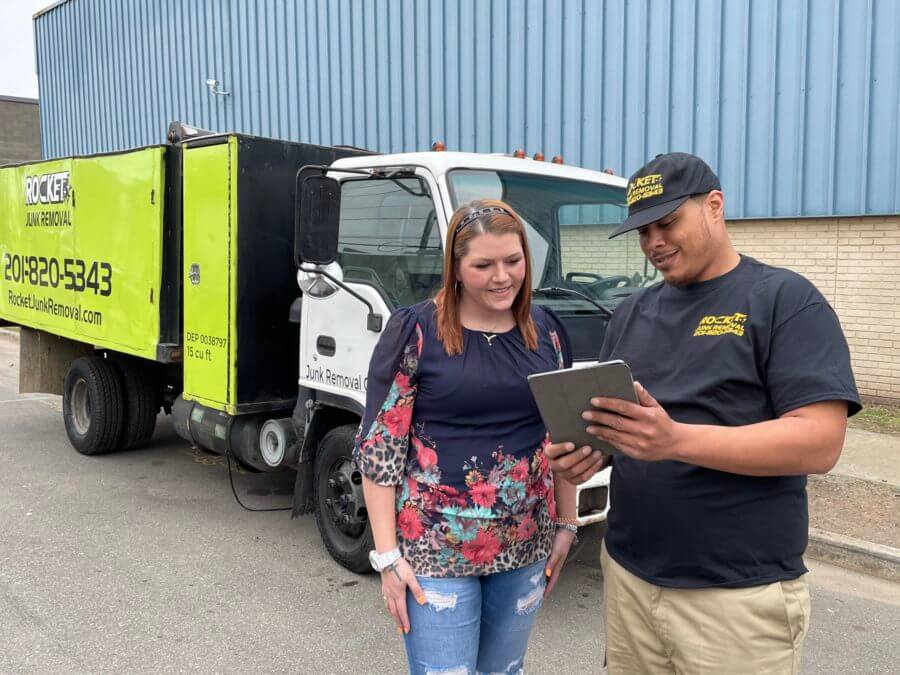 />
How a Junk Pick Up Works
When we are on our way to your location, we will call you and let you know to expect us. Step outside and watch as our junk removal truck pulls in!
Accept our upfront service quote to let our crew begin their work. It won't take us long to load your unwanted items into our truck!
We'll double-check our work to make sure nothing was forgotten. Then, we'll sweep up behind ourselves and accept your payment.
The last step of the process is disposal. We try to recycle and donate as much as we can because we are an eco-friendly business.
Can Rocket Junk Removal Pick Up My Junk At My Business?
Of course we can! We are proud to provide commercial junk removal services to the many businesses in our area. There is a whole range of different projects we have taken on for our clients. We have cleaned out restaurant tables, chairs, and appliances. We have removed cubicles, desks, and computers from offices that were shutting down or moving across town. In addition to these examples, we have also provided junk removal to retail outlets, boutiques, warehouses, property managers, and more.
We're proud to be a local business that serves other local businesses. We also understand that you have your own work schedule to maintain. Fortunately, we provide flexible scheduling so that we can work around your hours. Give us a call, and let's start discussing the details. That way, we can clear out your commercial junk, giving you one less thing to handle for yourself.
About Us
Locally owned and operated near you, Rocket Junk Removal is the #1 junk removal business serving Northeastern New Jersey. We take on jobs both big and small so that the members of our community never have to clean up their own junk. Our team dresses professionally and works fast. You'd expect high prices from a crew like ours, but nope! We instead treat you to bargains that will make you smile. What are you waiting for? Choose our junk removal services in Prospect Park, NJ!
What Our Customers Have to Say
4.6 out of 102 reviews
SAVE $20!
When You Book Online
WHAT ARE YOU
LOOKING FOR?