Full-Service Junk Removal Services in Pompton Lakes, NJ
Is it time to schedule a professional junk pick up in Pompton Lakes? Scheduling your week can become frustrating when you're supposed to wedge a DIY junk removal project in there as well. So why bother doing it yourself at all? Just let the professionals at Rocket Junk Removal serve you instead!
JUNK REMOVAL NEAR ME IN POMPTON LAKES, NJ
What is Pompton Lakes Borough best known for? Probably the very lakes that are featured in its name, of course! They don't just look great from a distance. As it turns out, they're great places to swim, kayak, and even fish. However, good luck fishing up any big catches when you're fishing for time for a DIY junk removal project instead. Skip the stress of having to spend all day cleaning up your own clutter by relying on our junk removal services in Pompton Lakes, NJ instead!
Rocket Junk Removal is proud to provide full-service junk removal to residents, business owners, and landlords near you. No matter where you need us to go, and no matter what you need us to remove, we can get it done! We'll even take on whole property clean out projects if need be. No job is too big for our experts!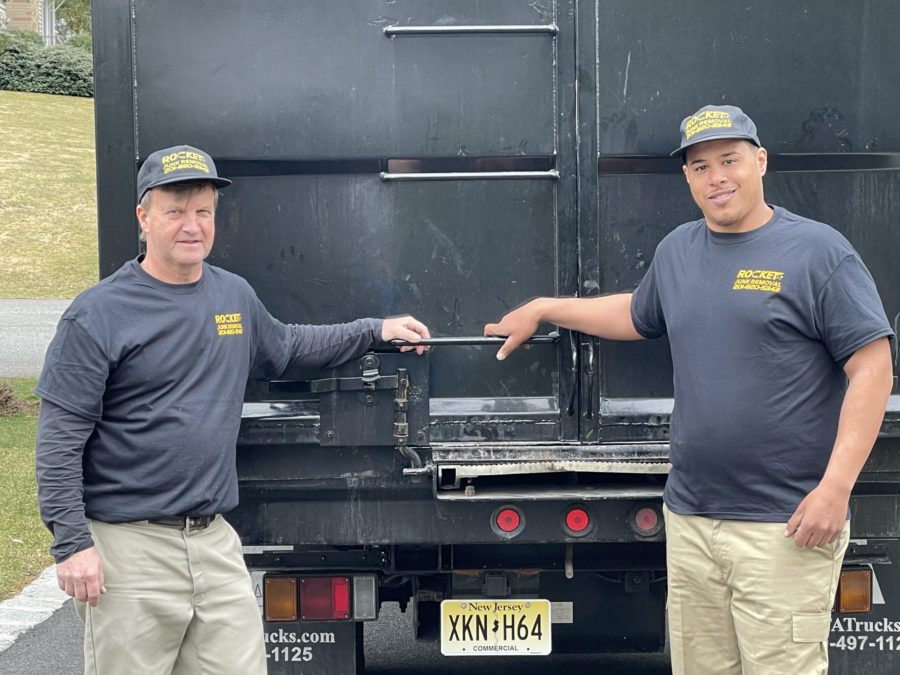 />
Why Our Pompton Lakes Junk Removal?
If your collection bin has over sixty pounds of waste in it, then the city will happily pass it by. In fact, relying on trash collection services in Pompton Lakes might be a bad idea if hauling all that junk to the curb is going to give you a backache! It's time to look into your next best option: junk removal companies. And what better junk removal company is there than Rocket Junk Removal? We are a locally owned and operated business that can't wait to haul away junk for you!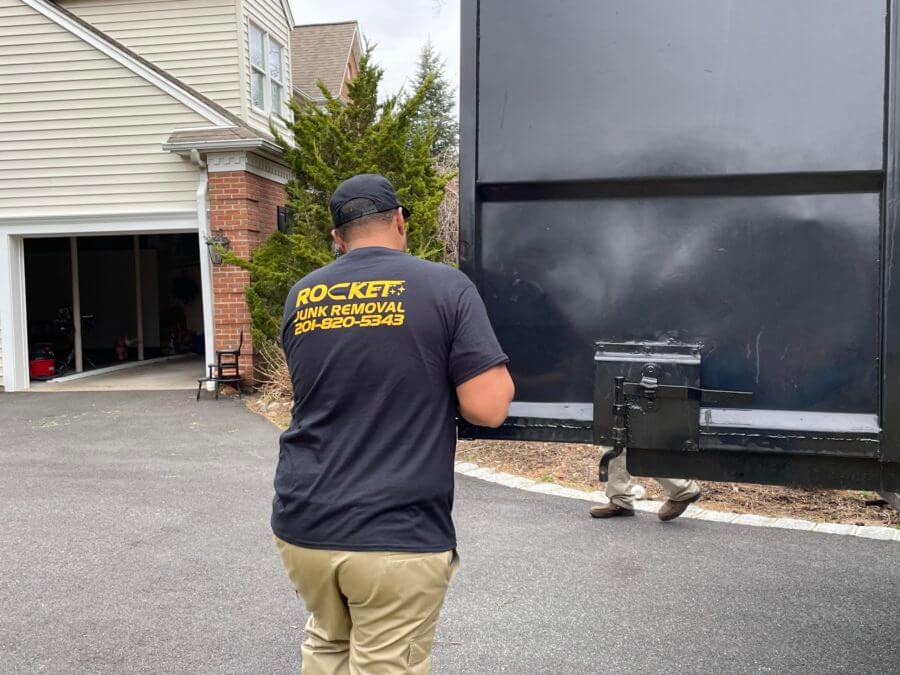 />
Pompton Lakes Junk Removal Experts
Unlike our "big box" competitors, we don't have to play by a franchise's rules. What does this mean for you? It means more personalized service, prices that the other guys can't compete with, and a friendly-faced crew that's excited to meet you! We'll work fast to save you time, and we'll provide you with volume-based rates so you can save cash. Our crew will treat you so well, you might find yourself piling up more junk just so you can book another appointment with us!
Before we start talking about repeat appointments, though, let's talk about getting started the first time. Good news: it's easy to get started. We can even provide you with same-day junk removal if you need it! Let us know that you'd like junk removal services in Pompton Lakes, NJ by contacting us online or calling 201-820-5343 today! It won't be long before we're by your side, picking up your junk and loading it onto our truck.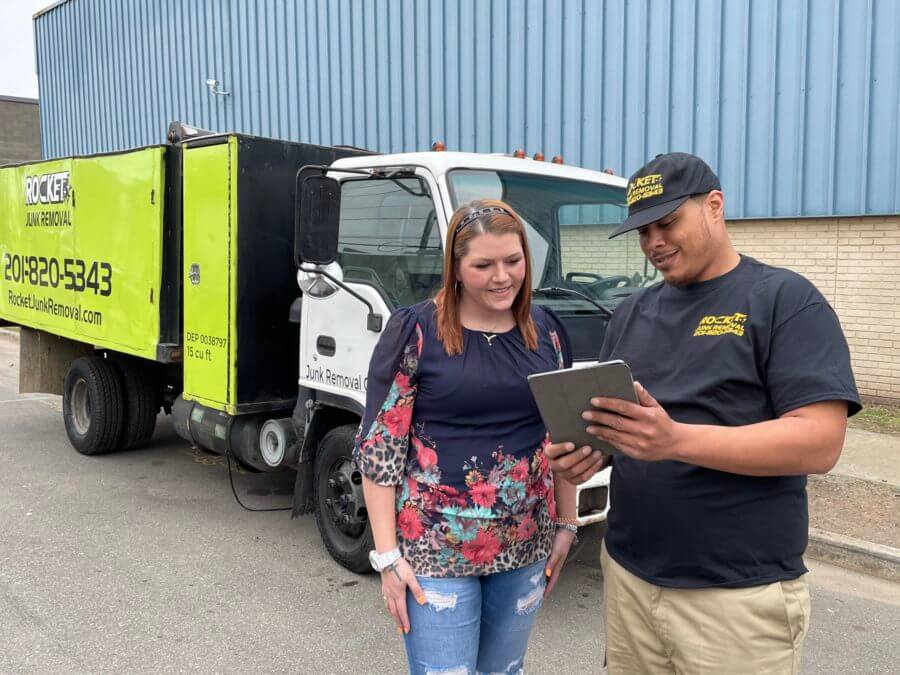 />
Our Junk Removal Process
Before we arrive at your Pompton Lakes home, business, or property, we will give you a courtesy call. This is our way of letting you know we're going to be there shortly.
Once we have made it, please give us the rundown on all the junk you have for us. Then, accept our volume-based service quote to lock in our price.
Now you can just sit back and relax as our full-service crew moves all the junk off your property and onto our truck. We work fast to save you time!
Finally, please provide payment for our services, and we'll bid you farewell. We appreciate you for choosing Rocket Junk Removal!
Yard Debris Removal in Pompton Lakes, NJ
Do you have waterfront property? It can be nice to step outside and find yourself on the shore of our local lakes. However, it's also true that sometimes, less-than-desirable things come floating down the way. This can include trash, sticks, branches, and many other kinds of outdoor waste. Even if you don't live on the lakefront, you can have dilemmas regarding your landscape anyway. Winds can bring tree limbs crashing into your yard. Your crops might dry up and leave you with a mess to clean up. You may even have an old tree stump that you want to get rid of once and for all.
There is a solution to all these problems, and it's our yard debris removal services. That's right—our junk removal crew works outside in addition to inside. We can clean up whatever the lake brought in. We can pick up sticks. And it's a sure bet that we can even unearth that stubborn tree stump that's been haunting your lawn for so long. Whatever messes you have outside, leave them to us, whether they're in the front lawn, the side lawn, or even the backyard!
About Us
Which junk removal team is ready to come rocketing to your rescue? Rocket Junk Removal, of course! We proudly serve Pompton Lakes, NJ and many other service areas, too. Keeping Northeastern New Jersey clean and clutter-free is our priority, so let us achieve this goal by removing the junk from your property. We'll get the job done for an agreeable price, meaning you and your wallet will both be feeling great by the time we've rolled away with all your junk in tow.
What Our Customers Have to Say
4.6 out of 102 reviews
SAVE $20!
When You Book Online
WHAT ARE YOU
LOOKING FOR?