Foreclosure Home Cleanout Services
Don't do all the heavy lifting alone. Call Rocket Junk Removal today to help.
Foreclosure Cleanouts in New Jersey Done for You
Property matters are already heavy enough without thinking about the massive amount of furniture and rubbish involved. Rocket Junk Removal knows about foreclosure cleanouts in New Jersey. We know that as a property owner, you'll be on the market for a service that can help. Especially if the home is filled to the ceiling with excess and unwanted items.
Well, your search ends here. Rocket Junk Removal pros are trained in removing all types of furniture and appliances and have multiple trucks on hand for the disposal process. We can have teams come out and remove all items safely and carefully from the property. You won't have to lift a finger to help. What's more, our foreclosure cleanouts pricing is considered highly reasonable and affordable by previous clients. And the money you spend with us takes care of New Jersey.
We operate all throughout the northern New Jersey area. Conveniently providing foreclosure cleaning services in three major counties: Bergen, Essex and Passaic. So we don't mind coming out to where you are and hauling that heavy load off your hands. Not only do we work hard, but we want to keep our counties in New Jersey clean and safe for its residents. When you're looking for full service foreclosure junk removal that's done efficiently, choose Rocket Junk Removal.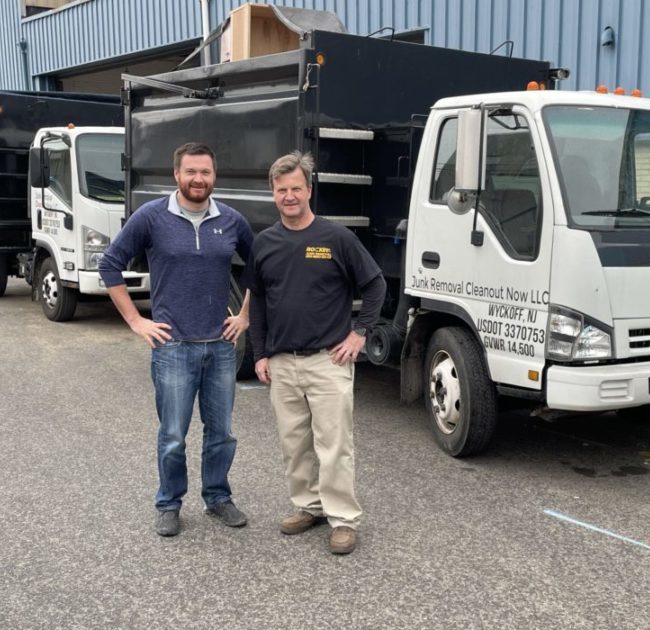 />
Why Choose Us for Foreclosure Cleanouts in New Jersey
Rocket Junk Removal is a company that's all about a clean footprint. When we work for you, we work for New Jersey. Our teams will dispose of the refuse properly. We'll take your junk to the appropriate destinations like recycling centers or charities. And when handling foreclosure cleanup this is important. Often the foreclosed property will be left with rooms full of furniture or garbage. Choosing our service means you don't have to worry that large amounts of furniture are going into the dump.
What's more, our prices are considered fair and reasonable by a number of our customers! When you choose Rocket Junk Removal as your clean out business, you can expect no added fees or irrational costs. Foreclosure cleanouts pricing is based solely on the amount of junk you need removed from your property.
Another reason why Rocket Junk Removal service is so outstanding is that we use a quick yet efficient process. There's no waiting weeks for an appointment, we have enough crew members to service multiple areas and set same-day or next-day appointments. And we're just a call away!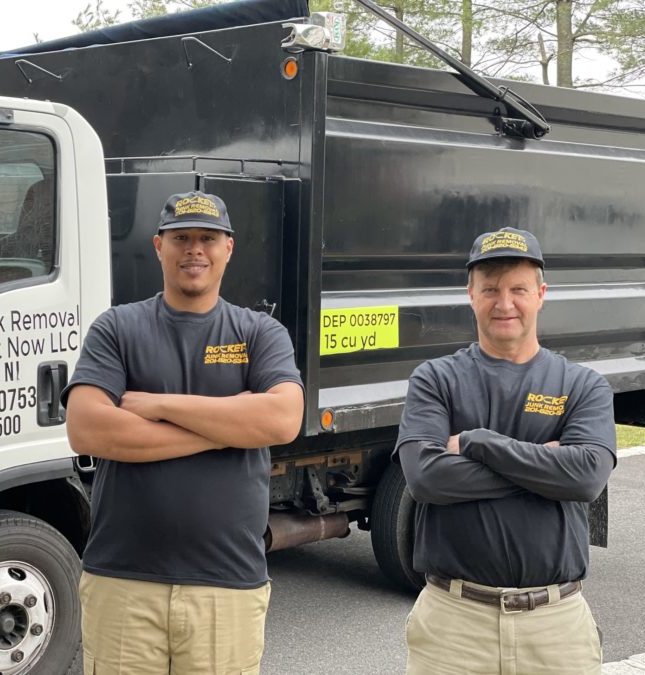 />
The Process for Foreclosure Cleanouts in New Jersey
Scheduling We're available Monday through Saturday 8am to 6pm! Call

(201) 820-5343

during these times to set up an appointment. We also have easy online booking available 24hrs. Book your service date and time whenever you like!
Arrival Junk removal teams arrive on time and ready to service you. We know that foreclosure junk removal is an extensive process. So, we'll avoid adding any time constraints to the matter. A team member will also give you a courtesy call when they're on the way.
Quote After checking out and evaluating what you need hauled, you'll receive a firm quote for the service. Remember, no added fees, no price adjustments. Our pricing style is accurately measuring your amount of junk.
Getting to Work Our workers will get to hauling! Full-service means we handle it all and wont ask you to lift a thing. After everything is loaded into our trucks, it'll be properly disposed of by us as well.
Carpet Removal with Foreclosure Cleanouts in New Jersey
Your foreclosure cleanup task doesn't have to stop at junk hauling. You can get more done with us as we handle multiple types of improvement and demolition jobs. If you'd like to have the carpet removed, our teams can do this professionally as well. We know the waste and disposal laws for counties, too. Another worry we can lift off of your shoulders. The thought of being fined or incurring fees for improperly disposing of junk or carpet from a foreclosed property is a heavy one. Our crew will relieve you of this worry when we haul away your carpet for you and dispose of it properly.
Skilled through experience and training in the process, our teams will carefully and completely remove your carpets. It seems like an easy task at first. But clients often forget the difficulties of the task. Removing carpet requires using protective gear to avoid irritations from dust and particles caught under the carpet. And the cutting process also needs to be done properly and carefully! With our experience we know to watch out for these and the stray tacks!
About Us
We're your county-wide junk haulers. Rocket Junk Removal employees are all experienced and trained in their areas of work. Which is important because we handle a number of property improvement jobs. From hot tub removal to construction debris cleanup. Our services are used all across northern New Jersey.
You'll find us in areas like Teaneck, Mahwah, Hawthorne, and Paramus. These boroughs are like home to us! Because we're from Jersey, too. Don't consider us a conglomerate looking to make money off of a local town. We're local and we're neighbors to you. The money you spend on our services go back into New Jersey. Which leads us to our next point.
We care about our place of residence. Rocket Junk Removal does foreclosure cleanouts in Jersey with cleanliness and efficiency in mind. Meaning we go the extra mile to recycle reusable furniture and appliances. We also donate to charities where possible. All to keep from piling up junk at the dump.
What Our Customers Have to Say
4.6 out of 102 reviews
SAVE $20!
When You Book Online
WHAT ARE YOU
LOOKING FOR?