Full-Service Junk Removal Services in Bergen County, NJ
When you need to get rid of unwanted clutter, let the junk removal pros at Rocket Junk Removal handle it for you.
Sustainable Junk Removal Services in Bergen County,NJ


Being one of the first four original counties in New Jersey, Bergen County boasts rich American history and culture. The district is dubbed the gateway of NJ and is known for its massive population. Owing to continued growth in the local economy, there is a need for many services, including those that preserve the pristine qualities of the county. It is with this in mind, that Rocket Junk Removal has moved to play a more significant role in reducing the carbon footprint, by offering efficient and Eco-friendly Junk removal services in Bergen County, NJ.
Notably, volunteers have been lending their service to keep the area's grandeur and lavish outdoors spotless for the last sixteen years by participating in the New Jersey clean communities program. Equally important, our company has taken the time to align our mandate with the county's, ensuring we are the best Bergen County junk removal company in the area.
Whether it's commercial or residential clean-outs, junk hauling services, demolition, carpet removal, construction debris removal, or property management, We've got you covered. What's more; we offer a wide variety of other services at a very affordable cost, six days a week.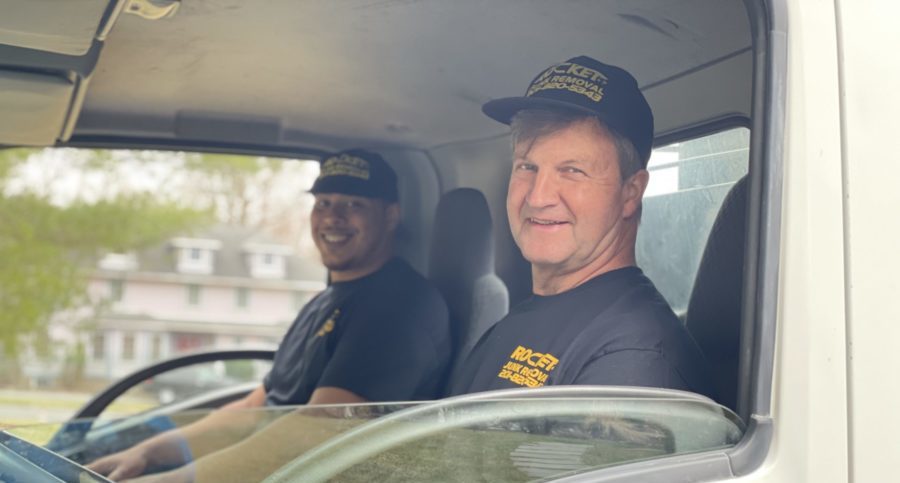 />
Why Us
We are a locally owned and operated business on a mission to keep our county clean. Hiring us means keeping the money flowing in our local economy. With many other larger outside companies coming in and asking for higher fees, we will maintain our affordable prices and ensure that our services go a long way for you.
Our crew members are trained professionals and will productively streamline the job without you having to do anything.With our company being local, the upkeep of the county is important to us. We value our residents and cherish our heritage; as such, the work we do work will reflect our utmost.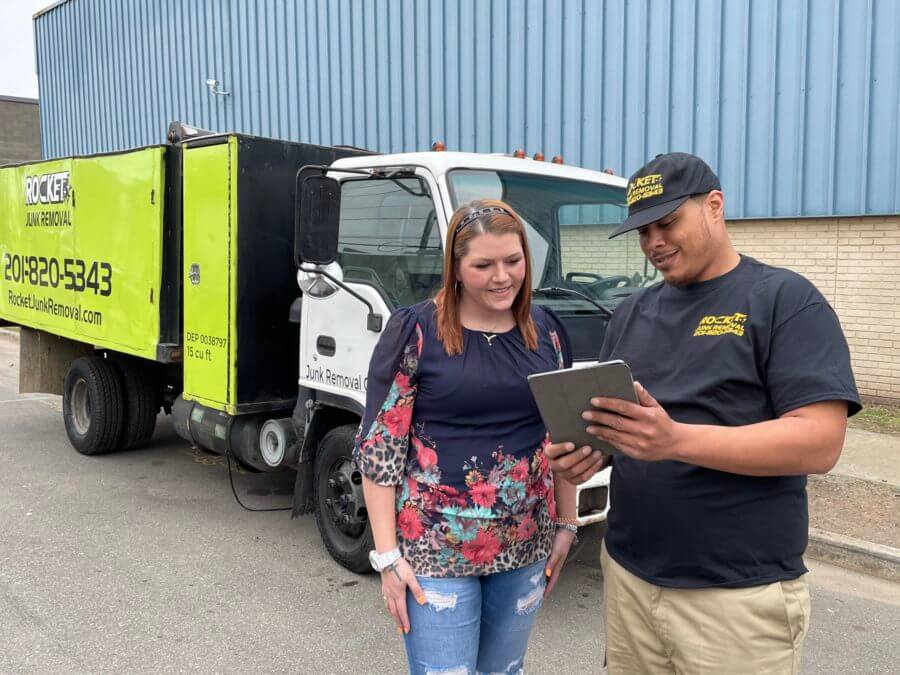 />
Our Process
Call

(201) 820-5343

to get an instant junk removal estimate, or visit our website to

 

book online and save with available discounts.

We'll give you a courtesy call when we're on the way. We value your time and will be there on schedule. 

Our crew will give you an upfront quote for the services needed once we've assessed the work. 

We offer same day and full service, which means our capable crew will handle everything; there is no need to lift a finger from removal to clean-outs and hauling away. We will do it all. 
Construction Debris Removal
Like with most things, it is crucial to hire trained professionals when dealing with any task needing advanced experience and training, especially those that are potentially risky. Construction debris removal requires experienced people to take care of it. Owing to the nature of the job, the right tools and equipment are essential, and we have exactly what you need. Our capable and seasoned crew members at Rocket Junk Removal know how to handle the debris removal process safely. That's why we're the best in the business.
Construction debris includes hazardous waste, asphalt, ferrous metal, stone, clay, concrete, drywall, gypsum, and many other materials that need proper handling. In keeping with the Environmental Protection Agency (EPA), construction debris should at all times be transferred to a landfill, recycled for new use, incinerated, or reused directly on site. That is why we are the best for the job. Our friendly and efficient team will handle the job safely and efficiently, from removal to hauling away, and correct disposal.
About Us
Rocket Junk Removal is a locally owned business operating in Bergen County, NJ. We practice a strict Eco-friendly policy to ensure our services help to reduce our carbon footprint.
With all that is happening in the world, we want to lighten your load. Whether overflowing trash cans or full-service clean-outs, we want to provide the best services to Bergen County, NJ residents. No task is too big for us.With customer service a top priority, we will always strive to be the best for you. Help us help you and the planet.
What Our Customers Have to Say
4.6 out of 102 reviews
SAVE $20!
When You Book Online
WHAT ARE YOU
LOOKING FOR?