Full-Service Junk Removal Services in Wayne, NJ
Rocket Junk Removal is the home of your go-to junk removal pros serving Wayne. We have seen just about everything when it comes to junk removal, so count on us to haul your clutter away in a flash. It's always our pleasure to serve you!
JUNK REMOVAL SERVICES IN WAYNE, NJ
What's on your schedule in Wayne, NJ this week? Do you have classes at William Paterson University? Want to do some shopping at Willowbrook Mall? Or would you like to check out a local park? There are many different ways to spend your free time, so make sure you still have free time by avoiding DIY junk removal. When you need junk removal services in Wayne, NJ, the team at Rocket Junk Removal is here to help.
Whether you need junk removed from a dormitory, house, business, or somewhere else, we're ready to haul it away! Our crew of professionals is well-acquainted with junk removal work, so you can rely on us to get jobs of all sizes done. We can serve you fast, too—in fact, we even offer same-day and next-day availability!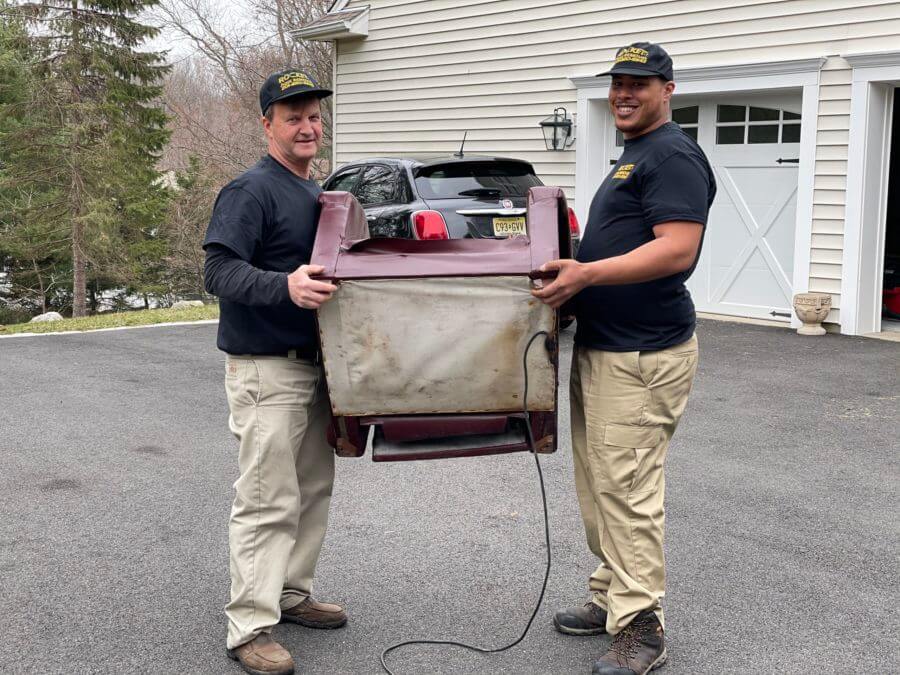 />
Why Our Wayne Junk Removal?
Have the trash collection services rejected your garbage? Or are you struggling to remove your unwanted things from your property at all? Do-it-yourself junk removal is frustrating and tiresome. Fortunately, there are many full-service junk removal companies that are willing to help you out. For the best customer experience, choose Rocket Junk Removal, a locally owned and operated company. Our team is friendly, professional, and best of all, always working fast to finish the job ASAP!
Our eco-friendly junk removal lets you part ways with unwanted items without having to feel guilty about it. We recycle and donate as much of the junk we collect as possible! In addition to this, we also provide super affordable prices. That's because you pay a simple, volume-based rate for our services. The amount of junk we haul away determines what you pay—no hidden fees involved.
Ready to get rid of your junk? Then reach out to us and schedule junk removal services in Wayne, NJ today! Contact us online to let us know you need help via our website. Or ask for a junk removal pick up over the phone by calling 201-820-5343. We can't wait to hear from you, so why wait to give us a holler? It won't be long before your appointment day!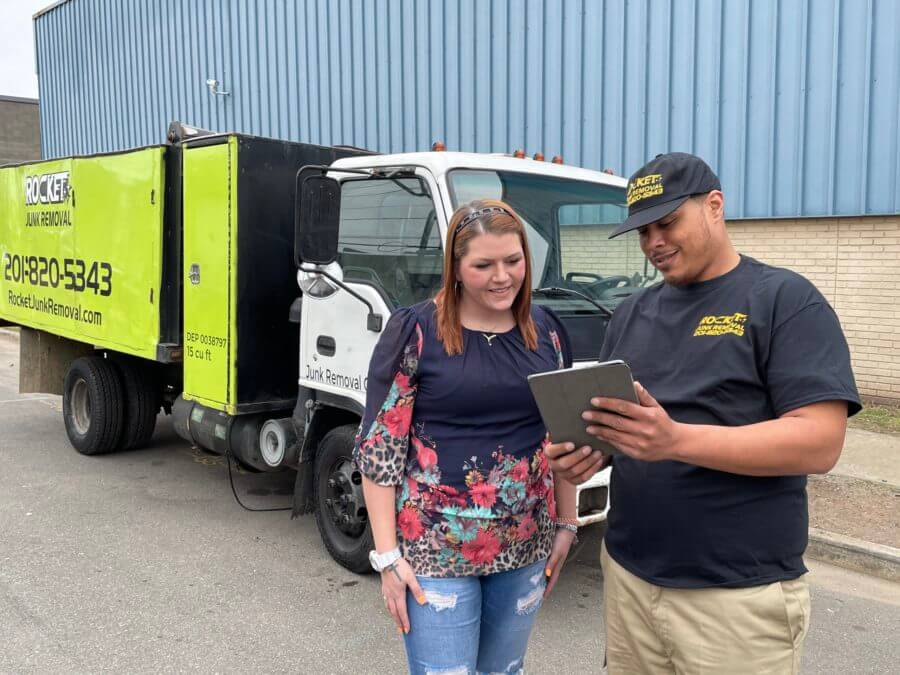 />
How Wayne Junk Removal Works
At the beginning of your appointment, we will arrive on time with plenty of truck space and a team that's ready to get some serious work done.
After we have sized up all the junk you have for us, just approve our upfront service quote. We'll get to work immediately afterwards.
Hauling away junk is easy for us. So easy, we'll never have to ask for your help. Take a breather while we do all the manual labor!
Finally, we will make sure we loaded everything into our truck, accept your payment, and leave the property. Thanks for choosing Rocket Junk Removal!
Appliance Removal in Wayne, NJ
What's the heaviest thing in your home? There's a good chance it might be an appliance. This means that when an appliance needs to be hauled off your property, it's likely you won't be able to handle it on your own, either. So if you have a broken refrigerator, a nonfunctioning washing machine, or a dishwasher that's too ancient to get the job done anymore, contact us. Our professionals are used to appliance removal jobs, and we can whisk away any unwanted appliance in seemingly no time at all. We make appliance removal look easy!
We'll make sure to bring enough team members to handle your unwanted appliance with ease. We'll lift it up on both sides, and if necessary, we'll use a moving dolly to wheel it off your property. Count on us to exercise caution to make sure nothing gets dropped or scuffed. Keep in mind that we are a fully insured company, so you never risk any liability when we're on the job. It sure beats you biting off more than you can chew and accidentally harming yourself while attempting DIY appliance removal.
About Us
What makes us the go-to junk removal business in service areas all across New Jersey? As a local business, we don't see our community as just another opportunity to profit. Instead, we see neighbors who need help getting rid of junk, and we're gearing up to give them the assistance that they need! Not only can we make your clutter go away fast, but we can do it for an affordable price, too. These inexpensive rates can only be found at a local business, so don't miss out. Contact us today, book an appointment, and put your junk in the hands of our professionals!
What Our Customers Have to Say
4.6 out of 102 reviews
SAVE $20!
When You Book Online
WHAT ARE YOU
LOOKING FOR?